From face painting fairy princesses to magicians and clowns, MagiKidz specializes in interactive entertainment packages for celebrations large & small.
Whether you want a face painter, a specialty themed entertainer, or a stage show, our customizable packages take your party to the next level of Wow!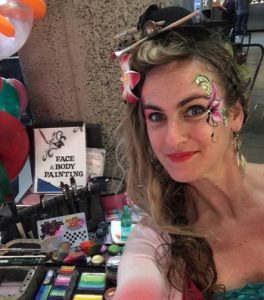 Miz SOPHIA
– is an eventertainer, face painter, and the founding director/ringleader of MagiKidz. She has a B.A. in Integrative Arts and 12+ years experience of performing arts and 8 + years of teaching arts. She also produces wonder-filled Kidz Village at multiple music festivals, and coordinated the very short and the very tall into countless parades. She has a nearly unlimited costume closet and after over 7 years painting at b-day party bootcamp she could almost be called a brush ninja- she is so fast!
SKILLZ: Face Painting, Stilt Walker, Agent/Producer, Balloons, Freehand Glitter Tattoos & CircusDance Facilitator 
Miz NAOMI  brings joy and magic to kids parties with face paint, games, and songs. She is a classically trained actress, with a degree in musical theater, and she LOVES to fully embody fairytale characters, and has a silly sense of humor. She is also a fabulous face painter and balloon twister, and she sings! When she is not enchanting children, Naomi is flying through the air with the greatest of ease as a professional aerialist.
SKILLZ: Face Painting, Magic, Balloons, Singalongs/Stories
Miz SARAH has been trusted party entertainer for 6+ years. Face Painting, Balloon Twisting, Magic, Stories, Games and MORE! Specializing in coordinating custom hand crafted costumes with YOUR themed event, her deft hands turn out Balloon creations faster than the eye can behold! Faces flourish with smiles as magical pixie dust graces her custom face paint. Spritis soar and minds are enchanted by tales of far off places and magical tales of mythic beasts!
SKILLZ: Face Paint, Magic Show, Balloons, Singalongs, Storytelling & more
Miz YOGI is a very versatile and fast henna artist and face Painter who Loves her job and is always ready to go out of the way to amaze both kids and parents with her body art.She is very good with kids and all the parents can enjoy the party with their friends since all the kids are continuously in line to get seconds and third tattoo or painting on themselves.
SKILLZ: Henna Tattoos, Traditional & Bridal Henna, Face Painting, & Glitter Tattoos
MIZ LUNA is an extremely talented face painter! A mother herself, she is great with kids and is a new addition to the MagiKidz team.
Located in the Concord area, she can come to your party as Minnie Mouse, Dora, Snow White, Pirate or Clown.
She is fluent in English and Spanish!
SKILLZ: Face Painting, Glitter Tattoos & Balloon Twisting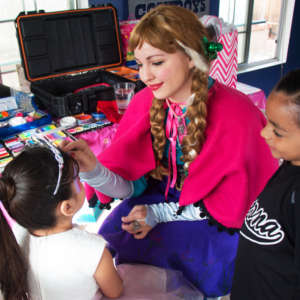 MIZ Natasia is a charming princess. Full of energy and warmth, Natasia will bring sparkle and magic to any party. As a party princess of five years, she does balloon twisting, magic shows, tea-parties, children's theatre, and absolutely beautiful face-painting and make-up artist. Imagination and creativity is always encouraged as are fun and specially-tailored activities for your event. Natasia's favorite new character is her new swimming mermaid. Especially popular for summer pool parties, Natasia swims under the water with the children and creates enchanting pool-time fun.
SKILLZ: Face Paint, Glitter Tattoos, Balloons, Magic Show, Classic Characters, Bubbles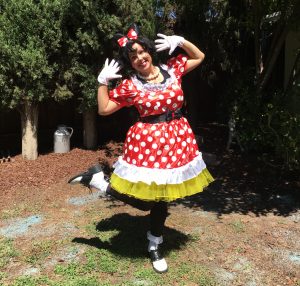 Miz MOLLY  – has been a professional circus performer for over 15 years and has traveled the world entertaining children and adults alike. A Bay Area native, Molly is ready to bring a little something special to your little ones' birthday or event and festivals! Specializing in Bubble Shows, Magic, Balloon Twisting, Face Painting and Circus Playtime where kids can play with hula hoops, parachute, learn to juggle, poi balls and play games! Not only is she well versed in Stilt Walking, Fire Dancing, Belly Dancing, she is also a master of costumes! From clown to princess, she can fit any theme for your party!
SKILLZ Magic, Balloon Shows, Face Painting, Stilt Walking, Fire Dancing, Belly Dancing, Character Walkabout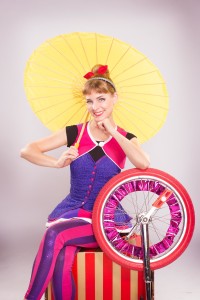 Miz BRI  trained in juggling, face painting, magic, balloon twisting, unicycling, and clowning! She can be counted on for fun engaging shows and fast sparkly face paint designs every time!
Bri's Variety Shows- 
PRESCHOOLER SHOW – This show can be tailored to a younger age range of 3-5. Bri asks the children to help her recognize colors, shapes, and animals. This show features juggling, magic, and Ozzy the Sea Otter that plays the musical bells! The kids meet Ozzy, and sing along to favorite nursery rhymes. 
AGES 5+ – The Variety Show features juggling tricks, silly stunts, lots of audience participation, and magical experiences. The show is suitable for ages 5-12, but even adults find it entertaining. Bri performs hat juggling, ball spinning, balancing, and lots of other novelty entertainments. The show focuses on audience participation, and ends with an egg juggling finale!!!
SKILLZ: Juggling, Face Paint, Balloons, Variety Circus Shows
Miz DREA enlivens parties with her contagious sense of humor, spunky energy, and endless talents. Trained professionally in clown, ballet, mime, puppetry, theater & voice, Drea captivates audiences (young and old!) with her delightful antics. A complete original, Drea incorporates any number of unexpected things into her show, including YOU! She can come as a princess, doll, circus girl, or fairy. 
SKILLZ: Magic, Games, Sing-a-Longs, Storytelling, Dance-a-Longs, Face Painting, Balloon Twisting, Glitter Tattoos & Puppetry!
Miz CYNNAMON  is a charming & detailed face painter that is entirely in love with the joy & excitement that it brings children and adults alike. Cynnamon has been face painting for 3+ years at all kinds of events from birthday parties, corporate events, company picnics, adult costume parties, holiday parties and even weddings! She is known for her detailed and beautiful designs and is often asked if she uses stencils or an airbrush machine, which she does not! Although great at cheek art options she specializes in full face designs, masks, and fantastical animal faces. Recently relocated from Southern California to San Francisco she is the latest addition to the MagiKidz team. 
SKILLZ: Fabulous Face Painting, photo booths, & basic balloons
OLIVER TWIST  A favorite of many a mother's club, Oliver has been delivering silliness to S.F. Bay Area children since 2003. Remembering what it was like to be shy, Oliver has a gentle, toddler-friendly demeanor. His outfit may be loud, but according to Rana Brown, a mother of two, he has a "great energy that is perfect for young children." From small birthday parties to giant fairs, festivals and corporate events, Oliver will brighten any event.
SKILLZ:  Face painting,, balloon twisting, freehand glitter tattoos. Walk-around characters include: pirate, holiday elf, non-scary clown, Easter-themed guy, 1950s reporter, cowboy, nerd and more!
Miz Oceana has a life long love for art, design, and connecting with the people who experience it. 
She has been face painting for both kids & adults for the past 13 years for festivals, parties & corporate events around the world. She has been stilt walking, designing costumes and performing for the past 11 years. Loving to work with new faces, bringing out their innate beauty through vibrant color, she loves witnessing people light up from experiencing themselves in a new way. She lives in Marin. 
SKILLZ: Stilt Walking, Face Painting
KRAYNORK the MAGICIAN Kraynork's magic show has a unique sense of style that is astonishing for children of all ages. Highly interactive,it is a magic show that is filled with audience participation , balloons, bubbles, candy and of course magic. Join Kraynork for a show of fantastic fun filled frolicking foolery, that will create an atmosphere of delight and intrigue leaving the party crowd either laughing or scratching their heads with joy and wonder.
SKILLZ:  Magic Show, Balloon Twisting, Card tricks
Miz JINGLE has been making art with all sorts of talented people for years as an actress, dancer, model, puppeteer, & performer. Whew! Facepainting and balloon twisting are certainly some of her favorite things to do; She lost count after having performed at over 300 celebrations. Jingle is always learning new things! Especially when she goes traveling. She has a rainbow of passions, and has been entertaining since she was 8-years-old, and loves every second of it. Jingle has played with children lots, through children's theatre, girl scouting, baby-sitting, volunteering, and many other "ing" words. *laughs* When she's not getting invited to birthday parties and celebrations, she works almost every day as a Trustline-certified Childcare Provider at a fancy childcare center. Jingle's "normal" counterpart, (Jessica), also holds an Associate of Arts Degree in Performing Arts and Drama.
SKILLZ:  Face Painting, Balloon twisting, & Storytelling with puppets
PROFESSOR PARADOX – Is a Pseudo Scientist, Family Entertainer, and whimsical Paradoxicalist. Within his 45 minute program, our very own Professor will astound and amaze as he introduces his latest science experiments. Coupled with magical mayhem, Prof. Paradox invites all families to bare witness to "Is the hand really quicker than the eye?", "What pandemonium awaits when you add more CO2 to soda pop?", and "How does Dr. Frankenstein put together his Monster?". He has been showcased at the San Francisco Zoo and within many schools in the greater Bay Area, as well as being named "Most Interactive Performer" by Bread & Roses. With over 15 years of professional experience our very own Professor Paradox will have you saying, "Wow it Works!"
SKILLZ: Magician, Actor, Improvisation, Clean Family Entertainment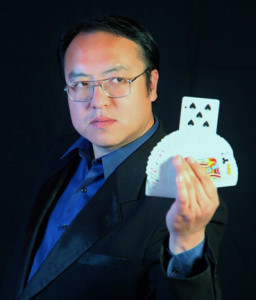 MAGIC RAY
has been performing magic professionally for over 15 years. Whether it's at the Sonoma County Fair or the Sonoma County Extended Child Care Program (three years running) or countless birthday parties throughout Sonoma County and the Bay Area, his magic has been entertaining children of all ages! He's also been teaching magic to children at the SF Day School for the past two years and still going strong! Ray's repertoire includes everything from playing cards, newspapers, ropes, Cups & Balls, and even the unique stage illusion or two. For Ray, it's always a pleasure and a privilege to bring the joy of magic to the young, and the young-at-heart!
SKILLZ: Magic (close-up, parlor, stage illusion, teaching, improv)
MIZ NIKKI  has been a children's entertainer for over 12 years. Specializing in clowning (face-painting, magic, and balloon animals), acrobatics and kids ukelele music, she loves to entertain. A recent import from New York City, she has painted faces for the Macy's Day Parade and done henna tattoo work for corporate events including Yahoo and AOL Time Warner. She also loves the intimacy of private birthday parties and children's events.
SKILLZ: Magic, Face Paint, Henna, Music & Balloons
MIZ CATHY has more than a decade of experience with children; she's a pro when it comes to fun! Not only has she been entertaining professionally for over 5 years, she also holds degrees from the San Francisco Clown Conservatory and the Flying Actor Studio where she intensively studied clown, mime, and physical theater. Before that she worked as an environmental educator in New York City classrooms, taught at an alternative school, and regularly nannies for a number of families in the Bay Area. All of this experience adds up to exciting performances and an effortless management of large groups of wiggly kids.
SKILLZ: Face Paint, Balloons, Magic or Variety Shows